Vision and mission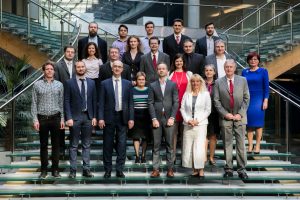 Our vision is to become an internationally recognized department attracting professionals from different fields and disciplines whose primary research and teaching focus is strategy of a company or of other organizational units.
Our core values are collegiality and diversity of opinions.
Our mission is to develop strategic thinking of students so that they were successful in the business world and the whole society benefited from that.
The key issues we deal with:
How companies do create value for 

for individual stakeholders and the society as a whole.

How to analyze the competitive environment in which businesses operate.
How to create sources of uniqueness and competitive advantage of a company.
The keywords characterizing us:
business and corporate strategy, internationalization, strategic cooperations, mergers and acquisitions,
strategic thinking, design thinking and scenario planning,
performance evaluation and due diligence,
corporate governance,
stakeholders, economic and non-economic objectives of the organization, shared values,
businesses and their role in the society,
family firms,
turnaround management, restructuring and insolvency.